Please note: Once you click "Add to Cart" to select from the resources listed below, you will be redirected to a page similar to this one. You will not need to click "Add to Cart" again. Simply scroll down to the bottom of that page and you will see a small "checkout with PayPal" button. Click that to be directed to PayPal to complete the checkout.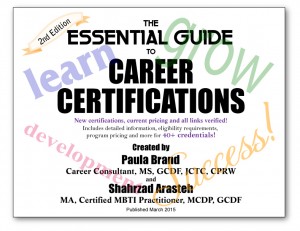 The Essential Guide to Career Certifications
The list for career professionals (or those who manage career pros) looking for certification and training options that are the right fit for their goals and interests!

"Three Cs" for Finding the Right Career
If you're ready to make positive changes in your career and manage it well, this short ebook, based on Nourish Your Career's "Three Cs" will help you get started today. Learn about Clarity, Community, and Commitment™ and put them to use in your own career and life. (24 pages)