Create What's Next!  – A Nourish Your Career retreat for women
Is it time to reflect (and act) on what you truly want, instead of fitting into others' definitions of what you should do, the kind of work that has value, and how you should structure your life? Join me, Shahrzad Arasteh, author of Nourish Your Career, for this unique retreat to explore what you want to do next and how that fits into this stage of your life. Take time to identify your core values, priorities, passions, strengths, and learn how to choose work that honors them and aligns with what you want and need now.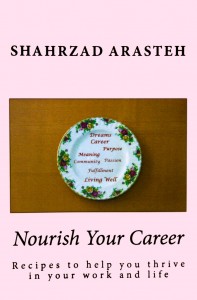 The small group size and personal, nurturing atmosphere will allow us to work closely together, providing you with individual, customized attention from me. Throughout the retreat, a combination of small group exercises; workshop presentation and facilitation; time for quiet, purposeful reflection; time with your career counselor; and other activities will be used. You will also have a little free time to relax and explore the natural beauty of the area. (You'll want to experience the beauty of Garrett County and Deep Creek Lake in autumn!)
We will welcome you on Friday, October 21, 2016 with the opportunity to meet fellow retreat participants in an informal environment, enjoy a light lunch, then begin the retreat as you delight in the serenity of Haley Farm Bed & Breakfast.
On Saturday we will continue to work on identifying and exploring the values, interests, preferences and skills that are most important and meaningful to you and discuss how to create work that matches them. In this retreat "Work" refers to what you want to do next. That can be a career and paid employment (including transitioning to self-employment) related to what you've done before, career transition, or doing something meaningful to you which is not paid (e.g., volunteering, starting an initiative, or pursuing an activity or life goal for the joy of it).
Sunday's session will focus on putting it all together with an overview of strategies and next steps in your journey (including specific steps and timelines based on your individual goals). The retreat will come to a close by 11:30 a.m. I invite you to stay longer to enjoy the area, reflect on what you've learned during our time together, and extend the feeling of the retreat. If you'd like to do so, please book the additional nights when making lodging arrangements for our retreat.
When: October 21-23, 2016   We will welcome you with a light lunch at 12:00 and start the retreat at 1:00 to allow travel time (the B&B is about 2 ½ hours from Pittsburgh, 3 ½ to 4 hours from the Baltimore-Washington region).
Where: Haley Farm Bed & Breakfast, Garrett County, Maryland.
Registration Fee: $565 for the retreat (this is the combined price for the retreat and lodging). This reflects a significant value for such a personalized retreat, as the registration (without the B&B stay) normally starts at $500+ and the B&B stay alone starts at $155 per night.
What's Included:
– Any pre-work/assessments, and all retreat activities and workshops.
– A signed copy of my book, Nourish Your Career.
– Lunch and dinner on Friday and Saturday.
– A yoga session led by Haley Gillespie (certified Yoga and Group Fitness instructor, for whom Haley Farm is named).
– A meditation session led by Kam Gillespie (the warm and wonderful host of Haley Farm, and a contributor to "Nourish Your Career").
– AND two nights' stay at the beautiful Haley Farm B&B along with Kam's delicious breakfast – I have a feeling her wonderful Blueberry Soufflé ("Blueberry stuffed French Toast") may be served on one of the days! Guests will each have a private room in "Haley's Manor House" at the B&B.
Registration deadline: October 5, 2016. Registration is not complete until full payment has been received. To keep the retreat highly personalized, registration will be limited. If you would like to join us, I suggest registering early. A waitlist will be available after the registration deadline.
To register, please click the Buy Now button below to pay $229 for the workshop portion of the retreat (the remainder of the registration fee, which is the lodging portion, is paid directly to Haley Farm when you contact Kam to book your room).
Or, just email me directly and I will send you the invoice and link you'll need.  For your convenience and security, we use PayPal.  Please note that your registration is not guaranteed until payment for the workshop and B&B portions have been made and you receive a confirmation from me.
Lodging: For the B&B, please make arrangements directly with Kam at Haley Farm B&B  http://www.haleyfarm.com/ at  info@haleyfarm.com or by calling 301.387.2471.  Mention the Create What's Next™ Nourish Your Career retreat to book the two nights' stay in a private, luxurious room/suite with a delicious breakfast. If you would like to reserve additional nights, please mention this when you call.
Cancellation: You will receive a full refund of the registration fee for cancellations received in writing by October 1, 2016.  No registration refund will be made after October 1.  For Haley Farm's cancellation/refund policy, please contact the B&B directly.
I can't wait to welcome you to this special retreat!
Your Retreat  Facilitator: Shahrzad Arasteh is a holistic career counselor, trainer, and author of Nourish Your Career. The essence of her work is to help her clients find and share their story, to nourish their career and life™. She has worked with public and private organizations and focuses on working with adults in various career and life stages. Her areas of interest and specialization include career exploration and transition, assessment, helping clients choose and create "what's next", and social good people and organizations. She has provided workshops and training for a variety of organizations, including the World Bank, Middle Atlantic Career Counseling Association, and the University of Maryland Alumni Association.
Shahrzad has an M.A. in Clinical Psychology and is a Myers-Briggs Type Indicator (MBTI) Practitioner and Global Career Development Facilitator.
If you need additional information or have trouble registering for the retreat or lodging, please contact me directly at shahrzad@careerconsultmd.com or 410-271-5815.