"Three Cs" for Finding the Right Career
 …a brief Nourish Your Career ebook
by Shahrzad Arasteh
Do you want to create a career that aligns with who you are and nurtures you? In my work with clients, I've learned that almost everything they need to nourish their career (and life), and what we work on together—whether in our individual sessions, groups, or workshops—ultimately falls in one of these three categories:
Clarity, Community, and Commitment™,  the "Three Cs."
 You need Clarity around who you are, what you want, and what the world of work offers that would be a good fit.
You'll also need to have a vibrant Community (network) and nourish your relationships.
 The third and magic ingredient is Commitment—making the decision to explore or pursue a goal, and taking action. It makes the difference between staying stuck and moving forward (and reaching meaningful outcomes).
If you're ready to make positive changes in your career and manage it well, this short ebook, based on Nourish Your Career's "Three Cs" will help you get started today. Learn about Clarity, Community, and Commitment™ and how to put them to use in your own career and life.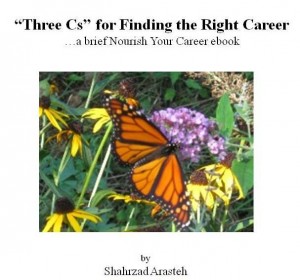 This 24-page ebook is filled with information, activities, and tips for discovering the power of the "Three Cs" and putting them to work for your success. To make sure anyone who'd like to benefit from it is able to, I'm making the ebook available for a special price of only $2.97 (for a limited time).
Enjoy!
Shahrzad
Shahrzad Arasteh is a holistic career counselor, trainer, and speaker with a passion for community and making a positive difference in the world. She helps clients with career exploration and transition, finding their meaningful work, and creating an Integrated Life™. Her customized retreats and workshops are an extension of her interest in helping others grow and reach their goals and dreams. Her book, Nourish Your Career, brings all these ingredients together with her love of creating foods that nourish others. To learn more about Shahrzad and her services, visit www.careerconsultmd.com